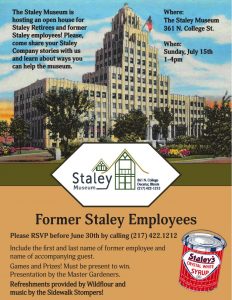 Sunday, July 15th, 1-4 p.m.
The Staley Museum, 361 N. College St.
The Staley Museum is hosting an open house for Staley Retirees and former Staley employees! Please, come share your Staley Company stories with us and learn about ways you can help the museum.
Games and Prizes! Must be present to win.
Presentation by the Master Gardeners.
Refreshments provided by Wildflour and music by the Sidewalk Stompers!
Please RSVP before June 30th by calling (217) 422-1212.
Include the first and last name of former employee and name of accompanying guest.