The Staley Museum
The Staley Museum opened its doors to the public during the summer of 2015. We are excited be a full-fledged member of our community. Here you will find updates and news about the museum and exciting events going on.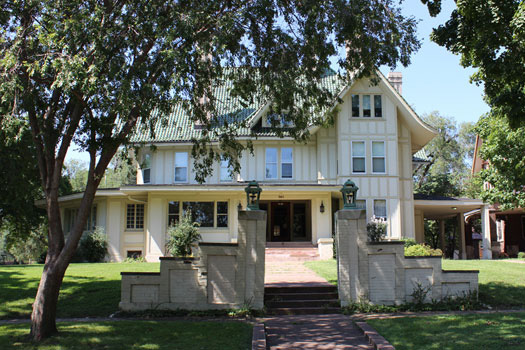 The Staley Museum and this web site are both works in progress.  We encourage visitors to continue to check back with us and see how we are progressing.  We would also like to encourage visitors to the site to share any stories or information they may have regarding Staley history.
Photos, documents, articles and memorabilia are all welcome and appreciated.  Anyone wishing to make a contribution to the Staley museum may contact us through via the Artifact Donation Form found on this site.  Also, for anyone in our area who wishes to be a Volunteer at the museum and offer their time and/or expertise, please go to the Volunteer Form and fill out your information so that we may contact you personally.  We invite you to Contact Us.
The Staley Museum is open year round; Tuesday – Saturday from 1:00 – 4:00 pm, and on the last Sunday of the month (March – November) from 1:00 – 4:00 pm.
---
The Staley Story
A.E. Staley was a big man with big dreams and had the determination to make those dreams a reality.  Although he did not arrive on the scene until the 1900's, his impact of Decatur was such that he is counted as one of the founding fathers.  The largeness of his dreams and of his civic minded generosity has contributed in major ways to the city we know today.
It was A.E.'s pioneering vision in the area of soy beans, both the cultivation and processing, that gave Decatur the name "Soy Bean Capitol of the World."
In the period of one decade, 1920-1930, A.E. Staley made significant contributions to the community of Decatur, being the driving force behind the creation of Lake Decatur, the Staley viaduct, the Staley Office Building, and the formation of the Decatur Staleys football club, later to become the Chicago Bears.
The story of A.E. Staley is one in which the city of Decatur has the right to feel great pride. It is a story which forms a major part in the industrial and agricultural history of central Illinois. We look forward to sharing that pride and history as we work toward the opening of the Staley Museum.
The Staley Museum on Facebook
Wednesday December 4th
🎉 Hooray! 🎉

We have NINE Staley Ball and Jack sets available for purchase at the museum! These sets are first come, first serve so don't wait! These won't last long! ... See MoreSee Less
Wow open it to online ordering for those of us out of state.
What is the price on these? I'd love a few bags!!
I want two..how much are they ?...my number is 412-9390
I so need 4 of these. Will you be having more?
Could you please save me 3 and I will be in tomorrow to pick up Thank you Cretta Nelson Bundy 217-433-6935
What fun. Will be on the lookout if you get more sets in. I know a few people who would love these.
I live in Florida, but have relatives in Decatur. Are they all sold? I've wanted a Staley ball for many years. Such great childhood memories. I remember how my hands smelled.
I will take the remaining 4 Please! If possible!
Wow, are they gone? I would love to buy some!
I wish I could, but I'm in georgia
Aww man...I live in Springfield! Can I pay for it over the phone?
Oh I wish I could get set but I don't live that close.
I would guess you could sell these by the dozens easily
Load more