The Staley Museum
The Staley Museum opened its doors to the public during the summer of 2015. We are excited be a full-fledged member of our community. Here you will find updates and news about the museum and exciting events going on.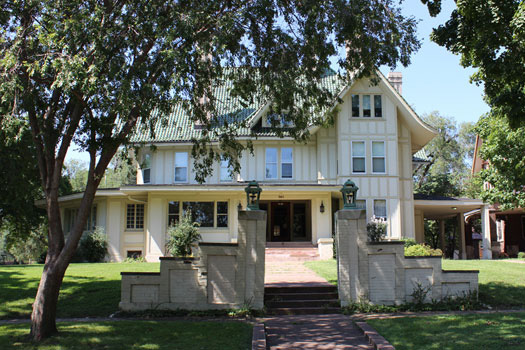 The Staley Museum and this web site are both works in progress.  We encourage visitors to continue to check back with us and see how we are progressing.  We would also like to encourage visitors to the site to share any stories or information they may have regarding Staley history.
Photos, documents, articles and memorabilia are all welcome and appreciated.  Anyone wishing to make a contribution to the Staley museum may contact us through via the Artifact Donation Form found on this site.  Also, for anyone in our area who wishes to be a Volunteer at the museum and offer their time and/or expertise, please go to the Volunteer Form and fill out your information so that we may contact you personally.  We invite you to Contact Us.
The Staley Museum is open year round; Tuesday – Saturday from 1:00 – 4:00 pm, and on the last Sunday of the month (March – November) from 1:00 – 4:00 pm.
---
The Staley Story
A.E. Staley was a big man with big dreams and had the determination to make those dreams a reality.  Although he did not arrive on the scene until the 1900's, his impact of Decatur was such that he is counted as one of the founding fathers.  The largeness of his dreams and of his civic minded generosity has contributed in major ways to the city we know today.
It was A.E.'s pioneering vision in the area of soy beans, both the cultivation and processing, that gave Decatur the name "Soy Bean Capitol of the World."
In the period of one decade, 1920-1930, A.E. Staley made significant contributions to the community of Decatur, being the driving force behind the creation of Lake Decatur, the Staley viaduct, the Staley Office Building, and the formation of the Decatur Staleys football club, later to become the Chicago Bears.
The story of A.E. Staley is one in which the city of Decatur has the right to feel great pride. It is a story which forms a major part in the industrial and agricultural history of central Illinois. We look forward to sharing that pride and history as we work toward the opening of the Staley Museum.
The Staley Museum on Facebook
Saturday May 23rd
We are very excited to share this film announcement!We are honored to partner with the Decatur Herald & Review for this historical film. Coming to you in 2021. ... See MoreSee Less
Great! Always thought the story would make a great movie!
Would love to see this! I have many family members who retired from Staley's!
Oh my. I hope to see this!
Coming where...tv, theater??
When a real man cared about his business and his people!
Tuesday May 19th
To all of those graduating this year,

We want to congratulate you on your well-deserved success during these strange times. While times might be tough now, we are certain there is a bright future ahead for each and every one of you. Graduating, whether it's from middle school, high school, or a university, puts you one step closer to achieving your dreams. We wish you the very best on your journey, and remember, while education is important so are the individual traits and qualities that are unique to you!

Congratulations 2020 Graduates!

Photo below of A.E. Staley Sr. in a cap and gown, taken in the Staley Office Building. In June of 1940, Mr. Staley was conferred an honorary Doctorate of Science degree from James Millikin University. ... See MoreSee Less
Staley family still should occupy the admin bldg....they built an empire...it all should still thrive!!!!
Thank you for making Decatur what it....... was!!
When I first glanced I thought it was John Goodman😕😏
Friday May 8th
The Staley Museum is pleased to hold the title of "sister museum" with the Hieronymus Mueller Museum, due to the shared family history between us.

This connected history started with the marriage of Ruth Staley to Ebert Mueller. Ruth Staley was the second child of Gene and Emma Staley. Ebert Mueller was the grandson of Hieronymus Mueller. It is not surprising that two of the most prominent families in Decatur would be united by a marriage. However, in the case of the Mueller and Staley families, the families were connected by two marriages. Ruth Staley and Ebert Mueller were the first coupled, and based on reading old records, the match could hardly have been a surprise. As an example of how in-touch the families were, when Ruth was younger, she was known to be a talented actress, and in 1922 on a return trip from the east, Robert and Addie Mueller, Ebert's parents, stopped by Ruth's school in Philadelphia to attend her Senior class play where she was playing the lead.

Ruth and Ebert were married on June 25, 1924 at the Staley Mansion on College Hill. Approximately 300 people were in attendance. Not long after, the two welcomed their son, Robert Eugene Mueller on March 21, 1925. He would be the only child of their marriage, as the two divorced in 1928. Robert began studying the piano at a young age. His paternal grandmother, Addie Mueller took a great interest in his career, and he studied under Moissaye Boguslawski and Egon Petri. He performed with the New York City Symphony when he was sixteen and seventeen. Aside from three years in the military during WWII, Robert's life was dedicated to music, and he traveled the world performing. ... See MoreSee Less
A.E. Staley Jr. Also married into the Mueller Family oh, they had four boys which I only know the names of two of them a e Staley the 3rd, and Henry Staley
I miss living in the Staley Mansion....I love history & it had plenty...
This guy looks like Sheldon Cooper
Load more